How to
dress the turkey
is not the only ritual of adornment required for a
holiday dinner
.
Dressing the table
and setting the general ambiance is just as important to setting the holiday mood (I voice this truism at the risk of sounding
Pippa-esque
in my excessive simplicity).
The perfect candles, dishes, flowers, table cloth and even apron can change the mood of the entire day. Here are some Thanksgiving decor tips on how to dress your table before (or after) you dress your turkey.
Williams-Sonoma Champagne Flute
Matching Wine Glasses Available as Well
The gold rim gives these glasses a special holiday feel.
Williams-Sonoma Taper Candle Holders
My mother always places these all around the table in addition to two larger taper candles in the center of the table. She does it at Thanksgiving and Christmas (and sometimes Easter as well) and the result is that the entire table seems to glow.
Caspari Gold Taper Candles
For the larger tapers in the center, the gold adds to the overall glow. I am sure I have listed these on this blog before but the Caspari gold tapers are my favorite for fall and holiday parties.
Bernardaud China
This china is basically my "reach" china in life but should I ever reach those heights, it would look beautiful on a Thanksgiving table.
Pottery Barn Carson Plaid Tablecloth
Rustic Placecard Holders
Instructions Below Courtesy of Martha Stewart
Tools and Materials
Floral shears
Evergreen branches (about the thickness of a pencil)
Hot-glue gun
Card stock
Calligraphy or felt-tip pen
Small evergreen sprigs
1. With floral shears, cut slim evergreen branches into 4-inch segments.Trim off any nubs.

2. Holding two segments of about the same thickness, adjust them to fit together snugly -- this might
require some twisting, turning, and further trimming.

3. Turn pair of branches over; run a line of hot glue across the pair's width, 1/4 inch from each end. Let dry.

4. Write a guest's name on a 1-by-2 1/2-inch piece of card stock.

5. Slip place card into holder; tuck a small evergreen sprig into one end.
Cranberry Topiaries as Centerpieces
Instructions Courtesy of Better Homes & Gardens
Using half toothpicks, skewer fresh cranberries to various sizes of foam balls, available at local crafts stores. Cover the foam completely with berries. Rest the balls on top of shapely glass, silver, or mercury glass candlesticks to create statuesque topiaries.
Transfer this simple gift wrapping look into a napkin ring concept
Tie a linen napkin with linen or twine and stick a sprig of evergreen inside.If you do not have the time to make the place cards, attaching a simple label to the ribbon or twine (as seen here) can serve the dual purpose of napkin ring and place card holder.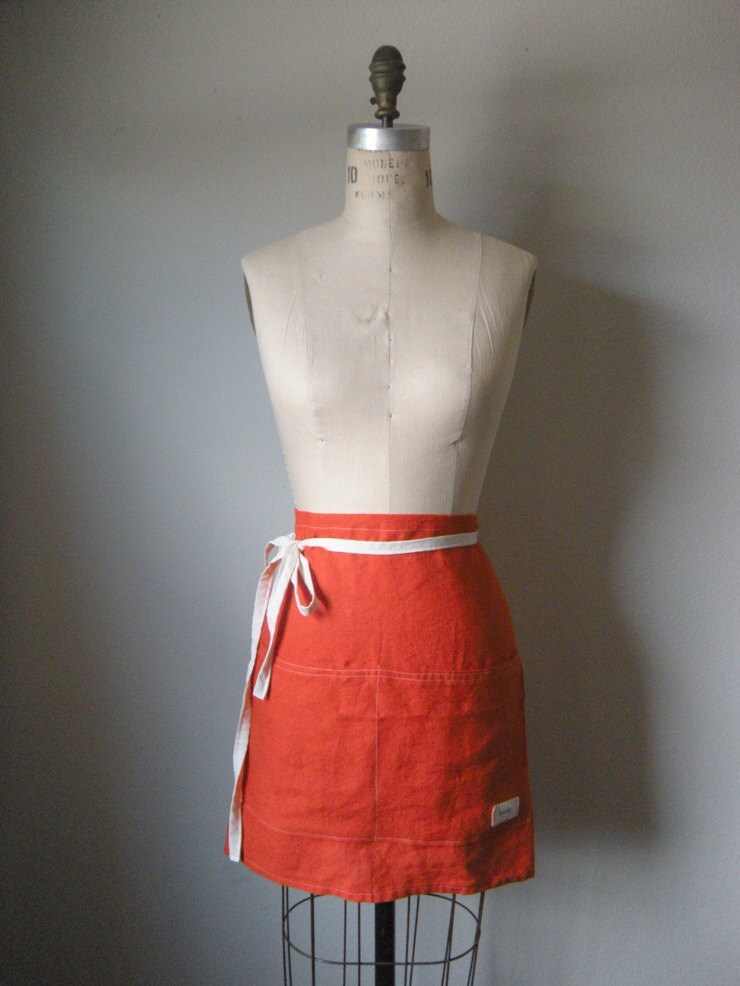 Etsy Choisette Apron
In my opinion, the best hostess apron whether in the burlap shade or the more holiday appropriate red.
Make edible holiday ornaments as party favors for your guests
You can use either a sugar cookie or gingerbrad recipe. I like these recipes from Good Housekeeping (they are the recipes my family uses every year!). Finish them off with twine to maintain the rustic holiday theme.