When Harry Met Sally
has numerous hilarious scenes, one of which is almost entirely improvised. The scene I am referencing is Harry awkwardly asking Sally out on a pseudo-date. He attempts to hide his awkwardness by turning the exchange into a lesson on how to speak in a funny accent that he tells her he has devised for them to speak to each other for the day. The phrase he uses to show her the staccato of the accent?
"I would be proud to partake of your pecan pie"
. The phrase was Harry's inelegant way of asking Sally to a movie and the phrase will now also serve as my
inelegant way of introducing the promised pecan pie recipe.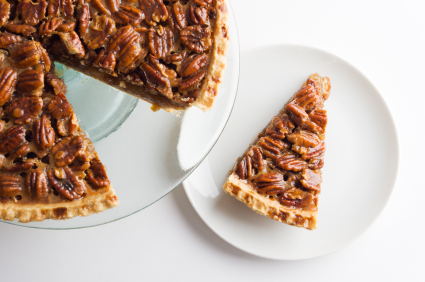 Southern Pecan Pie
3 eggs
2/3 C. sugar
Dash salt
l Cup dark corn syrup
1/3 C. melted butter or margarine (I use butter)
******************
1 C. to 1 1/2 C. pecans
******************
1 9- inch unbaked pastry shell
Beat eggs thoroughly with sugar, salt, corn syrup, and melted butter. Add pecans. Mix pecans and batter. Pour into unbaked pastry shell.
Bake in moderate oven (350) 50 minutes or till knife inserted halfway between outside and center of filling comes out clean. Cool pie before serving.